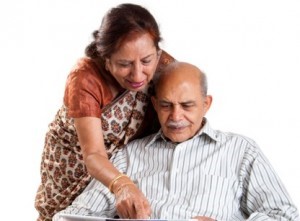 Every family has one and if you're not so lucky, several.  Who is a non resident care giver? Usually a blood relative, a sibling, a cousin, an aunt, an uncle living elsewhere could be Mylapore, Mumbai or Minnesota. Absence maketh the heart fonder and so after several promises they finally make good the threat of actually landing up to do their bit.
You are relieved since you have been the care giver working meticulously and now established a method to all the madness that very often comes with the territory of care giving.  It varies, but could include keeping your loved one clean, changing diapers, feeding, balancing the diet, managing a battery of drugs to be given, lifting, visits to the clinic, and the millions of details that you now do with ease. You actually look forward to the visit and then he /she comes, usually she and then after the hugs and shakes comes the emotional outburst which may include how weary you appear to be or better still on how the patient used to be and look at him / her today, holding hands and the warm words does flow  with the reassurance "I am here", you feel relieved, in fact a little energised , and get carried away asking what he or she would prefer for lunch. An exotic dish that only you can cook up. "Don't bother", you have enough on your hands without cooking what I want or like, but then if you insist that "potato porial" that you make is absolutely "divine" always remember it and it makes my mouth water, just describing it". Enough ammo to get you going to the kitchen and then you remember that you have run out of an ingredient required. You quickly order or ask someone to fetch or why not go across and pick it up.
It's time to feed your loved one, so you go about the routine with the ease of someone who has been doing it for a while now, but then the visiting care giver has to do her/ his bit and depending on where he or she is from enquires politely if you are supplementing with Glucosamine, Chawanprash or Kashayam depending on where the relative is from Minnesota, Mumbai or Mylapore in that order.
After a lecture on range of miracle food supplements that vary in efficacy from preventing cancer to hair fall, you are left wondering why does anyone get cancer these days, perhaps just a lack of knowledge.
If the non resident care giver is from Mylapore you only need to think of tea time and the snacks needed and if it happens to be Mumbai or Minnesota then you very well need to plan dinner, accommodation, clean sheets,  soap in the bathroom, toilet paper, if need be.
At the end of the day the virtue of Skype starts dawning on you. As a care giver you could do with less advice, a smaller dose of expertise and you seem relieved when you hear the all too familiar "Take care, let me know any time and I will be there" and you are left with the comfort of fending for yourself with the limited expertise that you have gathered. God bless the non resident care giver.
First published in the Care3 caregiver newsletter.