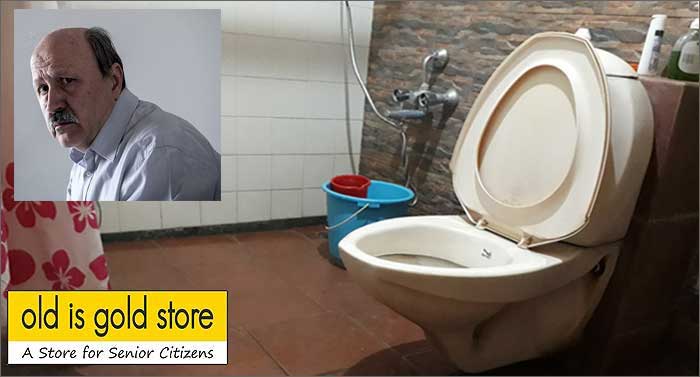 Most seniors find the bathroom difficult to navigate, and for elders with dementia, it can be quite a challenge. There are too many things going on in a very limited space; hot & cold water taps, shiny tiles, wet and slippery surfaces, all add to the confusion.  Here are a few ideas to keep your bathroom dementia-friendly.
1. Raised toilet seat
A typical western closet is about 16″ in height.  This is very low for many seniors and they find it very difficult to sit down and get up from the toilet seat independently.  The toilet raiser is an easy solution. It is easy to install and provides additional height.  Made of good grade plastic, the raiser comes with a lid and simple clamps to hold it firmly in place.  Easy to clean, extremely hygienic and comfortable. Usually comes in 3 heights and fits most western closets.
Alternatively, you can opt for a foam toilet raiser that can be fitted on top of an existing toilet seat.  Unlike other toilet raisers, this is softer and hence more friendly on the soft skin of elders.  Provides 4″ elevation that makes it easy to sit down and get up from the western commode.  Has appropriate depression for coccyx (tail bone) relief as well as depression in the front for easy cleaning access. The bright colour also helps seniors with dementia to easy identify the closet. BUY NOW
2. Contrasting toilet seat
If you are not opting for a raised toilet seat, consider adding a toilet seat which is bright or contrasting to rest of the fixtures to draw attention to it. This way, seniors with dementia can easily notice it and navigate without any problem.
3. Toilet Safety Frame
Toilet Safety Frame is a device that can be easily fitted to your existing toilet. It features two handles that make getting up and sitting on the toilet an easier & safer task. Toilet safety frame is versatile and the height adjusting mechanism makes it suitable for all types of toilets. The free-standing frame fits around your toilet seat with back bar in front of your toilet tank. No need to modify your bathroom. Folds for easy storage and portable for travel. BUY NOW
4. Install a bidet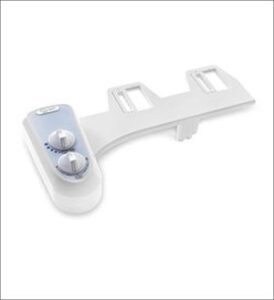 A bidet is a device that gets attached to your commode and helps one clean oneself without having to use hands.  A bidet is ideal for people who have limited mobility or dexterity in their hands.  Senior citizens who have frozen shoulders, shoulder fractures, strokes, severe arthritis or dementia may find it difficult to wash themselves.
A bidet can help them remain independent and at the same time maintain hygiene.  Most of the bidets sold here require very little plumbing work and no masonry work.  Designed in Japan, the manual bidets require no external power and work entirely based on the water pressure coming from the overhead tank. BUY NOW
5. Install Grab Bars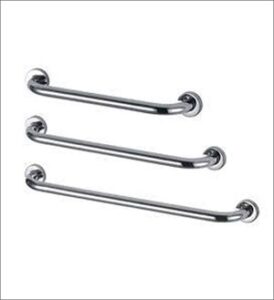 Toilet safety aids like grab bars greatly reduce the risk of accidents. Grab bars are not only inexpensive but also easy to install. Grab bars gives elders something sturdy to hold onto while they sit or stand. Bathroom grab bars can also be angled or L-shaped. The most typical sizes for straight grab bars are 12″, 16″, 18″, 24″ and 32″. BUY NOW
6. Label hot and cold faucets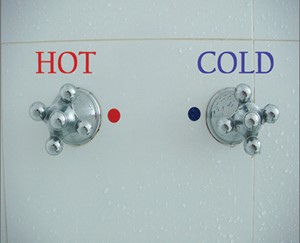 This is something basic but will go a long way in helping people with dementia. Clearly label the hot and cold water taps, as shown in the picture.
For more information on exclusive products for seniors – https://www.oldisgoldstore.com/