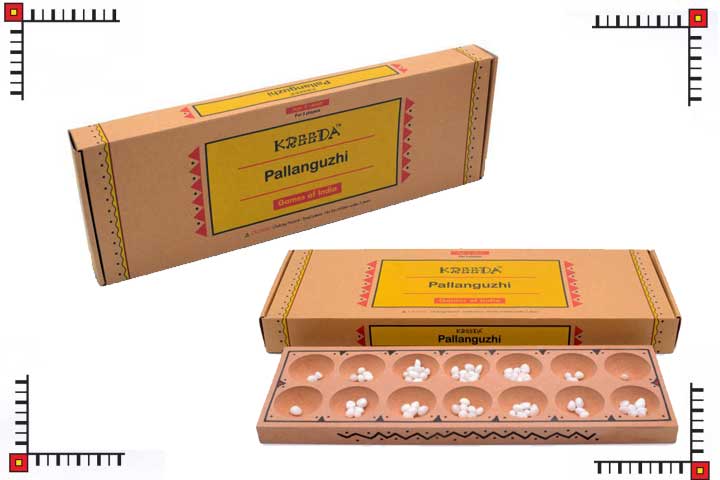 There are activities and fun board games for older adults even if they have physical or cognitive limitations like arthritis or early stages of dementia. It's more about spending time together, enjoying it and being a part of an activity.
Pallanguzhi (also known as a Cup and Coin Game, Vamanaguntalu, Mancala, Olinda Kaluja, Aliguli Mane, Adu-Guni Mane, Chenne Mane, Saat Kooti, Kutki-Boia) is perfect for seniors to enjoy with family and friends. Although seniors enjoy this game, we must be careful not to overdo it. Look for signs of fatigue and give it a break to keep seniors from getting too tired.
This is played on a wooden board with 14 cups in it, this is a game of distribution and counting. Variations of the game appeal to different ages and make it challenging and exciting.
Develops excellent math skills and fine motor skills
Helps to build memory
Believed to be therapeutic for those with arthritic fingers
Pallankuzhi – Rules of the Game
1. Aim of the game: To capture the most seeds. The Game is played in pairs with each player taking one side of the board.
2. Start: Place five seeds in each cup (Fig 1)
Figure -1
PLAYER-1
PLAYER-2
Round 1:
PLAYER 2 lifts the seeds from any cup on his side of the board and distributes one seed in each cup. When the player drops the last seed, s/he takes the seeds from the next cup and continues dropping them around the board including the opponent's side. (Fig 2)

Figure-2
If the last seed falls into a cup with an empty cup beyond, Player 2 collects the seeds next to the empty cup and that ends his turn. (Figs 3 and 4)
Figure-3

Figure-4
PLAYER-1 plays the same way, starting from any of the cups on his side and goes round the board distributing the seeds in the cups.
If the last seed falls into a cup with two empty cups beyond, he collects no seeds and his turn is over.
3.Winning:
The round is over when a player has no seeds on his side to start his turn. At this point, the winner could be determined based on the number of seeds in the stores. Or else continue playing until one player's store is exhausted. (Fig 5)

Figure-5
While Pallanguzhis were traditionally made of wood, our current need is to conserve forests and trees. The new Pallanguzhi from Kreeda is made from MDF (Medium Density Fibreboard). This is a type of hardboard, which is made from wood fibres glued under heat and pressure. It can be made from almost any scrap wood that is normally of limited value.
So when you buy an environment friendly Pallanguzhi from Kreeda, you are doing your bit toward conserving the environment.
IMPORTANT – KREEDA uses game pieces (small white stone) instead of seeds but the rules of the game remain the same
Where to buy?
We recommend 'The Old is Gold Store', speciality Store offering an assortment of products & services exclusive to senior citizens. Apart from the above, you will find several products that make your older adult's life easier.