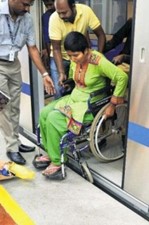 The first week of October is marked as Elders week and a lot of programs are conducted around the country to highlight the fact that there is an elderly segment of population still living in India.
Pensioners Associations, senior citizens bureaus, Probus clubs, and several private organizations working in the senior citizens sector have been announcing various cultural and informative programs for the said elders.
While these organizations and their programs do bring elders and their issues to the fore, however transiently, whether any permanent improvements are happening is yet to be determined.
One telling article in Hindu illustrates the general apathy of Indians and the Indian Government when it comes to elders and accessibility issues.  This article documents the study conducted by the Disability Rights Alliance on the Airport Metro rail station in Chennai, a building that has just been completed.  Here are some of the results:
Entry issues
For Smitha Sadasivan, getting into the station itself was a challenge as the ramp was not level with the ground. Also, the ramp from the parking lot was steep and had no handrails, activists said.
Gaps in staircases
Gopi Krishnan and M. Veerappan, who have low vision, noted that there were gaps between the stairs, where their canes slipped in. "It makes us nervous when climbing up," said Mr. Krishnan.
Incomplete signage
Signage was unclear and in many places, incomplete, the tactile paths were patchy and in the bathroom for the disabled, the flush behind the toilet could not be easily reached. Also, there was a difference in the level of the flooring at the entrance, making it hard to get in and out, said B. Meenakshi, an activist.
Levels of difference
On the platform, the tactile path did not extend towards the train, and wheelchair users had difficulty getting in due to the difference in the levels of the train and the platform. The warning strip on the platform near the train was inadequate for visually impaired persons using canes, the members said.
Lost in the lift
At Nanganallur, the team had problems due to lack of signage, inaccessible drinking water facilities and nobody answering the help button at the lift, said Sudha Ramamoorthy, a DRA member, "Also, there was no announcement of the doors opening and closing in the lift and the music is quite loud, making it difficult to hear anything when the help button is pressed," she said.
A mixed bag
There was some progress though, said Vaishnavi Jayakumar, a DRA member. "The floor is not as slippery as it was at Alandur, making it easier for those on crutches, and it is of a different colour. The ticket counters are lower and more easily reachable and the ticket vending machines are also somewhat accessible. However, persons with visual impairment cannot use them," she said.
To read the full article, go here.( https://www.thehindu.com/news/cities/chennai/Chennai-Metro-Rail-flunks-accessibility-test/article15422243.ece)