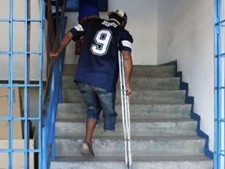 India's first accessibility audit failed to find a single public building or place that was completely accessible to people with disability!
That the first accessibility audit has been conducted decades after Independence is in itself a telling fact.  However, even this would not have happened except for PM Narendra Modi's push for an accessible India.
The first phase of audit, launched across 31 cities as part of Prime Minister Narendra Modi's pet initiative Accessible India, threw up shocking results, revealing appalling state of toilets and other facilities for persons with disabilities in public buildings, hospitals, railway stations and educational institutions, and half-hearted attempts at building ramps in the name of accessibility.
The department of empowerment of persons with disabilities (Divyangjan) had entrusted the task of auditing public buildings across 31 cities to 11 empanelled auditors.
You can read more about it here.( http://globalaccessibilitynews.com/2016/08/24/indias-first-accessibility-audit-fails-to-find-a-single-accessible-building/ )