A chair for my Paati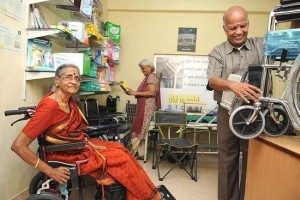 In an ageist world where toddlers, teens and adults dominate the consumer graph, a trio in Chennai are thinking about growing needs of the rapidly greying—and largely ign­ored—section of the population. Faced with parents suffering geriatric ailme­nts and few products to assist in their care, a trio of Chennaiites—Sanjay Dat­tatri and founder couple Jayashree and Prith­virajan—set up the Old is Gold store in Adyar, a Chennai suburb over a year ago. Since then, the store has been profitable, and plans are afoot to open another bra­nch in Chennai and stores across south India. "It's a shame that we are the only store exclusively catering to the needs of senior citizens," says Sanjay Dattatri.
The shop has been a boon to Eswari Sundaresan, 76, who found her back hurting from long hours of sitting, wat­ching TV or reading. A visit to Old is Gold got her a customised backrest cushion that she now props between the headboard and her back for support. Products like these pillows, designed for senior citizens, are a rarity in India, unlike in Europe and the US. "Disease and disability are two main concerns in old age. While healthcare is advanced in India, we are still lacking in products to help the elderly, and such stores are therefore vital," says geriatrician V.S. Natarajan.
You can read more of it here. (https://www.outlookindia.com/magazine/story/a-chair-for-my-paati/290784 )